We offer a simple, straight forward, four-phase merit-based patent process and client approved fee structure, with no incentive to lure you into secondary services if a concept is deemed an unlikely candidate to receive a patent.
The validity search, concept capture, secondary recommendation and patent filing phases allow the inventor to evaluate and determine the appropriate steps at each phase of the invention process.
Are you concerned that a patent for your idea is too expensive? Patenting and maintaining Intellectual Property is generally an expensive endeavor, especially for the garage based inventor or self funded IP creator. Through an inventor partnership with the IPN we have several options to help you fully fund your idea with limited resources and less initial upfront financial obligations.
We understand and believe that no good idea should stay an idea. We also offer partnerships for underfunded inventors and companies who need Intellectual Property for their company, but don't know how to create it internally. If your idea makes it past our vetting process and financing for the patent is a concern we offer a number of payment options that still leave you in complete control of the invention and its direction.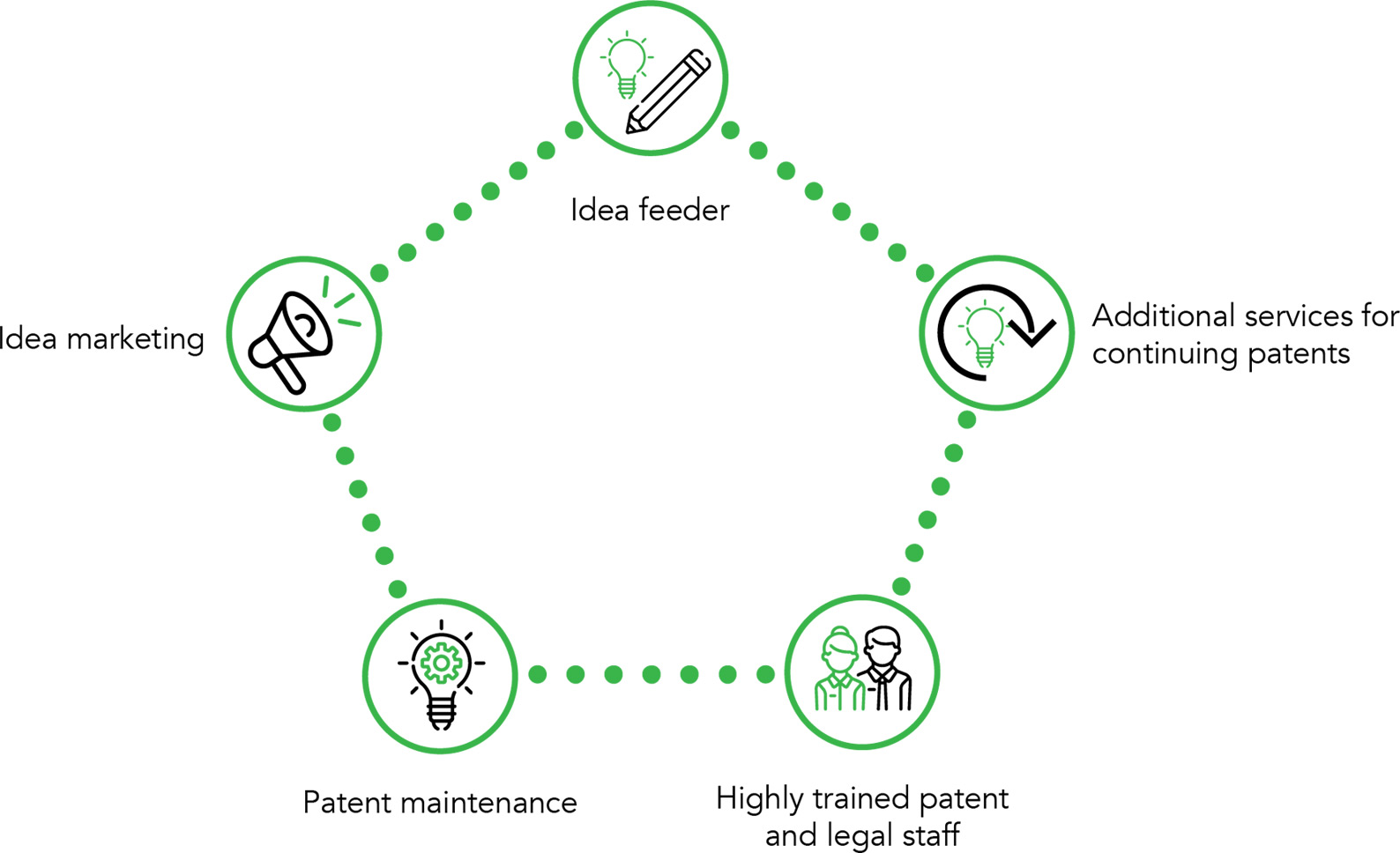 Additional Services
Want a simple way to create Intellectual Property? Once you are a client, you can use our idea feeder product, where you simply feed us a brief description of the idea and we submit a pricing sheet and we can work toward a patent from a simple idea seed.
We also offer additional services for companies and patent owners who have open patent applications they would like to create continuation filings around.
We can provide several options to help market your idea from website creation to shopping cart implementation and product creation and patent licensing assistance.
We also provide patent maintenance and patent continuation services once the application filed with the USPTO is published and the inventor receives notice of allowance on the patent.
All IPN inventors, patent writers, paralegals, artists and attorneys are trained in a proprietary invention creation process utilized to help a client refine and expound upon an initial invention concept.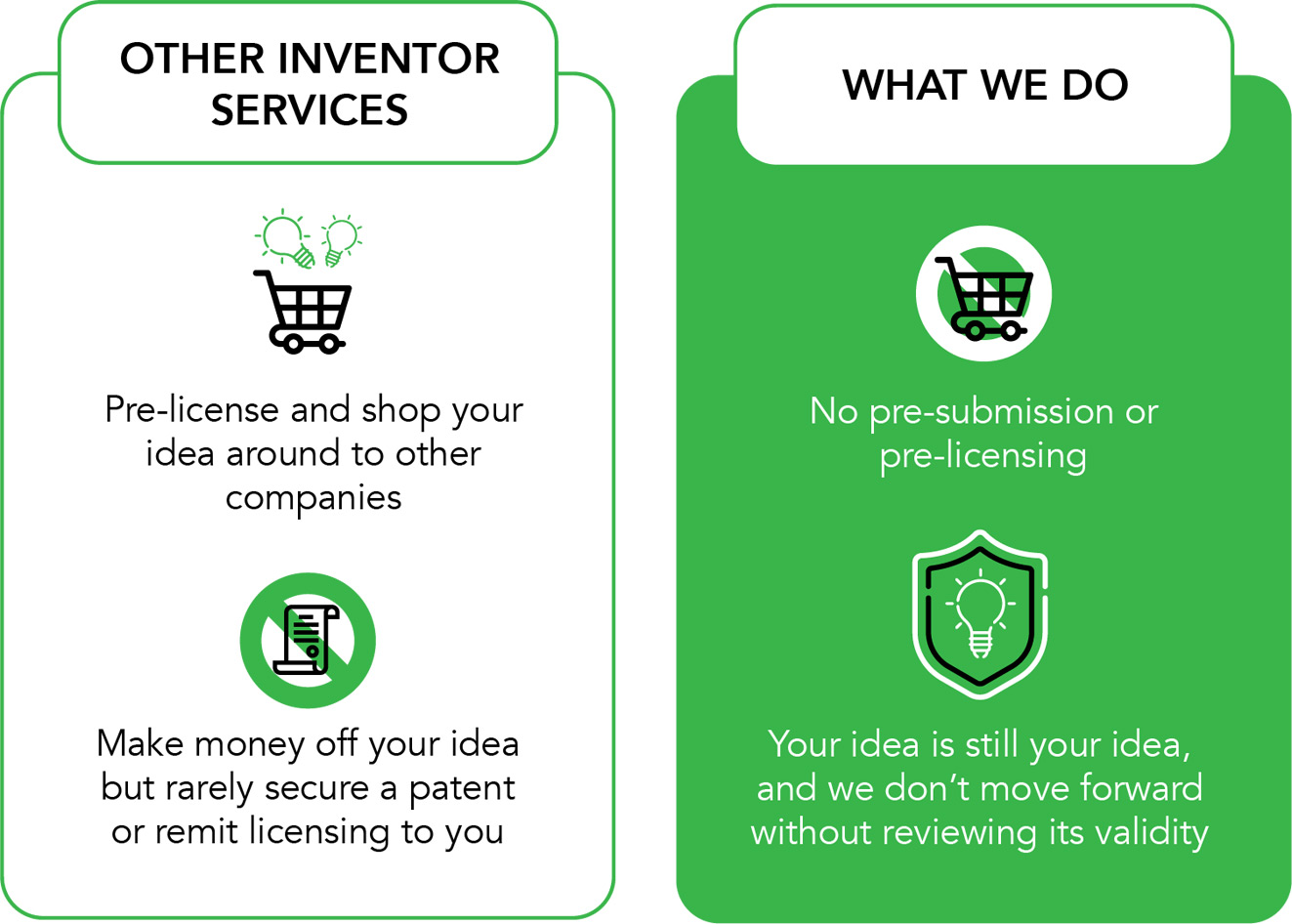 How are we different from most Invention Service Companies?
At the IPN we distinguish ourselves from many of the invention services advertised on television, which charge excessive fees to simply refer your non-patented idea to selected groups of lawyers and or shop the idea to a large group of unnamed product manufacturers. Through these unidentified manufacturer relationships the patent services companies imply potential licensing revenue for your idea. This type of fishing promise almost never yields a license for your product and even more rarely results in a product or issued patent for the inventor. Once the inventor agrees to these types of invention services deals they have often given a portion or all of their idea to the Invention Services Company.
Many of these types of invention assistance companies have been sued by the Federal Trade Commission and State Attorney Generals. They often operate under a number of LLC's subsidiaries and sub manufacture and license their own products and inventions to their sub LLC companies as a way to prove out their innovation.
We don't pre-submit or pre-license un-patented products or any concepts to any industry, as that could impair the patentability and licensing potential of your invention.
We never allow a concept or product idea to be pre-licensed and never move forward with a client without an in-depth concept validity search and law firm produced prior art and concept validity review.
We protect your interests and never move forward into the next patent phase with a client without a written legal opinion of the potential patentability of your idea.
We offer a straightforward four phase, merit based pricing system and employ no commissioned sales staff, so there is no high pressure sales environment to deal with.